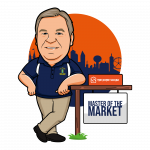 Jim Trautz
Master of the Market
A little bit about me...
By way of background, Jim spent more than 20 years in the United States Navy, retiring as a highly decorated Naval Officer. Since then, he has worked in several business verticals, but nothing excites him more than working with people. In his view, aside from producing success for his clients, the most rewarding aspect of the Real Estate business is the long-lasting relationships created in the day-to-day interactions between people.
Jim's experience as a Veteran, coupled with his experience in the corporate world, along with that of a seasoned Real Estate Investor and Agent makes him the Master of the Market.
Jim's approach to Real Estate is simple: He listens to your needs, he creates solutions to meet your goals, and he delivers results – ALL the time, EVERY time! His goal is also simple: To have the very best professionals in the business deliver the very best experience possible!
Originally from Chicago, Jim and his wife Cindy reside in Kissimmee, FL. They have 9 children and 6 Grandchildren and remain active in their community.