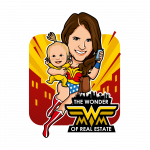 Mary De Boer
The Wonder Mom of Real Estate
A little about me
Mary De Boer is a Midwestern girl by birth but a Southern girl by choice – grew up as the neighborhood babysitter. She loved kids and loved making happy memories. With a strong passion for music as well, she trained as a singer for many years and even opened her own voice studio, teaching private lessons to both kids and adults. But she knew all the while that her legacy lay elsewhere. After she married the guy of her dreams and began making a wonderful home with their children, it all clicked: through real estate, she could make others' dreams come true by helping them find the perfect place to call home. This is the legacy she wanted to leave.
Mary now lives in Central Florida with her husband and three kids and is so grateful to use the skills she acquired as a childcare professional, teacher, and mom to help nurture families through the home selling and buying process. As the Wonder Mom of Real Estate, she educates, negotiates, and solves problems with practiced patience, honesty, and mama bear protection…all to make her clients' dreams come true.
When you choose Mary De Boer as your real estate agent, you're one step closer to coming home.