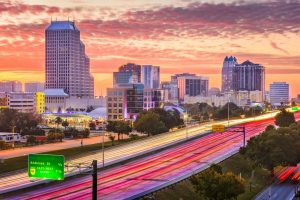 Orlando, Florida, is sometimes called the happiest place on earth, which is good news if you're buying a property there, not so good if you're selling one.
Either way, you need to find real estate companies in Orlando that will help you to find the right property or obtain the best price.
Why use Real Estate Companies?
If you're looking for a new property in Orlando or anywhere else, you could always do the heavy lifting yourself.
But why spend your weekends trailing around the local area looking for a home with the perfect pool or back yard when a real estate agent can do this for you with ease.
The role of a real estate agent is to consult with buyers and understand their unique requirements.
Buyers might have ethical considerations such as the type of energy system a home has or a specific location. The agent then works on your behalf, freeing up your days off.
Real Estate Companies in Orlando
When it comes to real estate companies in Orlando, there are plenty to choose from, but there are some obstacles to finding the most suitable firm.
For one thing, many of the real estate companies operating in the area are national organizations without much local knowledge.
Another consideration to make is the price, real estate companies can charge excessive fees for their services, so you need to strike a balance when choosing a real estate service.
There's a simple choice if you buy a place in Orlando; simply look up Orlando Home Squad for details.
Orlando Home Squad
Orlando Home Squad is a dedicated team of real estate experts operating in the Orlando area.
Not only is the team members talented and experienced, but we are also local to the Orlando area meaning we have a better understanding of the available property and areas in the region.
If you're searching for property in Orlando, contact Orlando Home Squad.
We will assign one of our experienced agents to your project and begin with a consultation that gives us an outline of what you're looking for; we then search for your perfect home in the happiest place on earth.
Orlando Property Searches
If you want to get an idea of what properties are available in the Orlando area, then visit Orlando Home Squad, one of the best real estate companies in Orlando.
Not only can you book a consultation with one of our experts on the website, but you can carry out property searches.
So, whether you know exactly what you're looking for or you want to see what Orlando has to offer, you can spend some time browsing the available properties on the website.
The listings at The Home Squad are complete and up-to-date, so you know you're browsing relevant homes.
Real Estate Companies in Orlando Offering Expert Advice
Whether you are buying or selling a property in Orlando, you need expert real estate companies in Orlando, and the best of them is The Home Squad.
The Home Squad is a team of dedicated professionals with years of experience; they are the people you should talk to for expert advice.